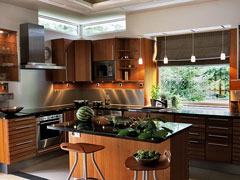 Home kitchens often project the interior design and style preferences of their owners. Perhaps you are hoping to update or remodel your own kitchen, or perhaps you are building a new home and want a designer kitchen. You have some ideas, but now you need to plan your kitchen design and bring together the kitchen products and services to make your dream kitchen a reality. For inspiration, you may wish to visit some kitchen design centers and model homes, many of which showcase gorgeous kitchens. The websites highlighted on this page feature a myriad of kitchen ideas and resources that can help you implement your kitchen remodeling project.
A kitchen design and construction project requires a great deal of planning. If you've lived through such a project, you'll know that an important step toward a great kitchen is designing an efficient cabinet layout and workflow plan. Once the kitchen plan has been established, you can move on to selecting the other elements of your kitchen.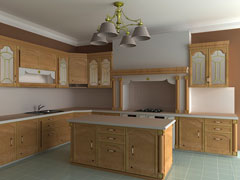 Cabinets are a major part of your kitchen. Not only do they set the kitchen style and decor, but their locations determine the workflow pattern. Does your budget allow for new custom-built, semi-stock, or stock kitchen cabinets, or will you opt for refaced or updated cabinets? Do you prefer wood, metal, or laminate cabinets, and do you want a painted or stained finish? Cabinet hardware should enhance the cabinet style and finish.
There are also many countertop choices. Manufacturers produce laminate, stainless steel, and solid surface countertops, as well as natural stone countertops fabricated from granite, soapstone, and quartz. Each countertop material has its pros and cons. If you are doing the kitchen construction yourself, the countertop surfaces must be properly prepared, so do your research carefully on how to proceed. Consider the use of an integrated, undermount, or drop-in sink when planning your countertop design. Certain countertop materials enable you to integrate your kitchen sink into your countertop.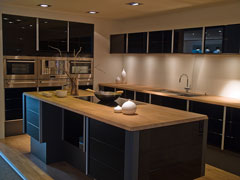 In addition to cabinets and countertops, you will also need to select your kitchen appliances. Choose the cooling, cooking, and cleanup appliances that suit your family size, your budget, and your food storage and preparation needs. Cooling appliances include refrigerators, freezers, and ice makers. Cooking appliances are cooktops and ranges, plus ovens and microwaves. Cleanup items include dishwashers and garbage disposals. Appliances can be color-coordinated or built-in to match the cabinetry. In addition to these major kitchen appliances, a whole host of convenient small appliances are available to simplify various food preparation tasks.
The decor of your kitchen finishes the overall style. Choose flooring, tile, paint colors, and fabrics to suit your taste. Kitchen furniture choices might be a table and chairs, or just stools at the kitchen counter or island. Finish it off with some artwork and accessories, and you'll have the kitchen of your dreams.
Alphabetized lists of, and links to, kitchen cabinet manufacturers and kitchenware retailers throughout the United States are available on these manufacturer and retailer directories. Local kitchen remodeling service providers throughout the United States of America are listed on this extensive bathroom & kitchen solution provider directory.
Kitchen-related video resources include gas burner flames on a commercial stainless steel cooktop, the white interior of a refrigerator, and dollhouse-sized kitchen furniture and utensils.